This guy , I had a crush on him like seriously . I'm so sorry because this post might annoyed you but I really wanted to share my happiness with you guys . Yup , I love kpop & everything about them especially their kdrama & idols . Tbh , this is my very first time that I like @ adore someone for so many years . I never felt like this before , it might sound a little bit crazy but this is the reality . I started to like INFINITE because of their song which is "Before The Dawn". At first I was confused between L (aka my hubby) & Woohyun . Because they look pretty similar but not until I truly realized that I really really in love with Kim Myungsoo .
See I told you this sound crazy but this is how I felt . I really hope that someday I get to meet him & greet him & taking a selfie with him . I really hope someday I'll meet him . I know , it sounds crazy . This is my very 1st time that I like someone so hard like this one . Especially when he's an idol . Seriously , he's my "namja chingu" not boy friend but BOYFRIEND ( do u get what i mean ? ) lol . He's so perfect , I mean by his physical & appearance . I think all of us agree with this statement . But his personality I like it too hahahaha . I like Kim Myungsoo's character more than when he's being L . Because hey that's his true personality when he's being himself which is being Kim Myungsoo.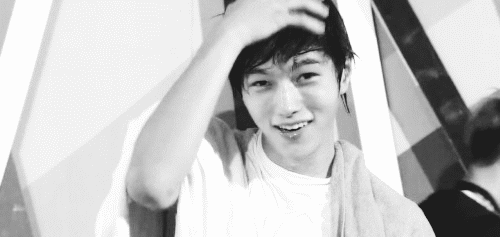 He can sing , he can dance , he can act & he's so handsome . OMG! I'm being ridiculous right now . I'm so sorry guys , I really wanted you guys to know how much I adore him . And yes , I'm his huge fan . One day , I'm gonna make sure I go to their concert & I'm gonna cheer for him & of course for all of em' ( INFINITE ) because i'm a truly INSPIRIT . Just wait & see , I'm gonna make it happen no matter how . And one day I'm gonna travel to Korea and make sure that I get to meet you guys in real life . I'm so envy for those who met you already oppa . Just wait for me oppa , i'm coming with love from Malaysia to Korea :-*
Just wait for me oppa >.< . Saranghae . OMG ! Sorry again guys . Have a nice day everyone ! Ops , say hello to Ipoh . Going back to Ipoh tomorrow so hmm when can I go home ( Penang ) , I'm not so sure but I'm surely gonna miss my hometown . Goodbye Penang . Thanks for 4 months holiday . Finally , final year begins . Pray for me guys . Hope everything gonna be just fine aamiin .